Chinese New Year 2020
The UK's brightest celebrations. As the dark streets light up, welcome in the Year of the Rat. Featuring Manchester's famous red lanterns, a glittering golden dragon, live performances and the legendary Dragon Parade. This year there is a new parade route, starting from 12.30pm in St Peter's Square, outside Central Library, follow the fun around the streets to Chinatown.
The Dragon Parade, Chinatown Celebrations and Fireworks

The Dragon Parade, Chinatown Celebrations and Fireworks at St Peter's Square, City Centre, 26 January 2020, free entry - Visit now The showstopping highlight of Manchester's Chinese New Year celebrations sees St Peter's Square and Chinatown burst into life in an eruption of colour, music, fireworks and the unmissable Dragon Parade. Gather from 12.30 to see the dazzling 175-foot Dragon, music and dance performances in Albert Square followed by The Dragon Parade as it makes its dramatic way to Chinatown. Our favourite viewing point is the raised areas outside Manchester Art Gallery. Celebrations continue in Chinatown itself – we expect the usual classical Chinese lion dances, martial arts, music, acrobatics and more dancing. Street food can also be found here and our top tip if you fancy a seated approach is to get down early if you can and bagsy a table with the best views of the parade and all the celebrations on the first floors of the restaurants lining George Street, Nicholas Street and Faulkner Street.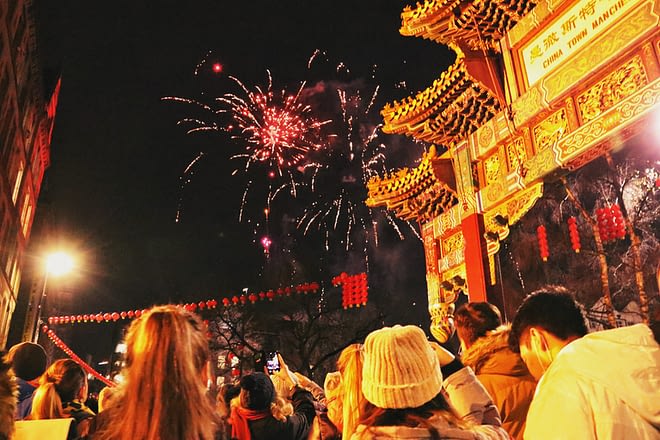 We love a good fireworks display and Manchester's Chinese New Year fireworks finale will be one of the most razzly-dazzly of the year. Catch the firework finale in Chinatown at 6pm. This is the sort of event that Manchester does so well for families with plenty of thrilling activity alongside great locations like the Art Gallery, Library and many great restaurants of Chinatown to duck into and explore on the way.